A little about Walls
(To learn a
lot

about walls, the five levels of finish, and drywall in general, click here)
Sheetrock. Plasterboard. Wallboard. Mud. Tape. Sanding....
Drywall is the art of taking walls that look like this -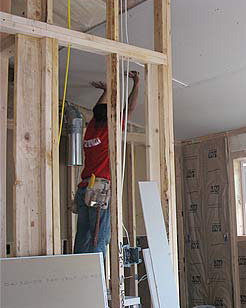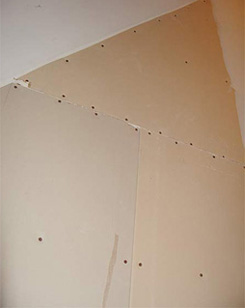 to a texture finish of your choice. Some popular contemporary textures:

Click here or on any of the thumbnails above to get a bigger visual. And there are lots of other textures! Skip trowel, sand texture, smooth wall....
"IF YOU CAN IMAGINE IT, WE CAN DO IT!"
Some F.A.Q.s. . . .
1: What is your hourly rate for small repairs?
A: $55 per hour (minimum charge is $55)

2: For smaller repair jobs (i.e. 2'x2' hole) do you have to come back on multiple days in order to
allow for drying time of the mud to finish the job?
A: No, we use a product called hot mud which dries quickly and we can complete the whole process
in one visit.

3: Do you use "Chinese Drywall"?
A: No! Never!! For more information: Chinese Drywall Controversy

4: I am a homeowner. What are my time options for scheduling repair work?
A: We schedule to arrive at repair jobs between 8-10 AM.

5: Do you normally work on Saturdays?
A: No

6: What are my payment options?
A: Cash, Check, Visa, MC, or Discover (Puka Shells, Euros, & Yen not accepted)

7: How do I know when my job is ready to paint?
A: When there are no darker areas (i.e. edges or corners) and everything is the same light shade

8: Can you leave up the plastic covering the windows when you are done?
A: We can, however there are a few things to keep in mind. You would want to knock the texture
specks off the plastic and clean up before painting, because if you use a paint sprayer it will blow
the little globs of texture all over your walls (not the best look!). You would also want to double
check that the plastic is still well taped and covering all the areas you need protected. You will
also be responsible to take it down after painting and dispose of it.

9: How long does it take to do a complete drywall job in a newly constructed house?
A: Generally about 10 working days. This can vary if the house doesn't have heat or if it is
especially cold outside.

10: If I want orange peel texture instead of machine brocade on my ceiling will that cost more?
 A: No cost difference

11: Is hand brocade finish more expensive?
 A: Yes, because it is more labor intensive

12: How can I get plans to you to bid?
 A: You can email, fax (503-266-7700), drop by our office (300 S. Redwood St. Suite 105, Canby),
or mail (PO Box 129 Canby, Oregon 97013).